مکتب نبوی ﷺ کی ہیئت اور آداب منتخب احادیث مبارکہ کی روشنی میں
The nature and the importance of the school of the Holy Prophet Muhammad (SAW) in the light of selected Hadiths
Keywords:
school of the Holy Prophet Muhammad, importance of the school of the Holy Prophet Muhammad, nature of the school of the Holy Prophet Muhammad, school in the light of Hadiths
Abstract
Among all the religions, Islam gives most importance to education. Prophet Muhammad SAW has described the importance of education on several occasions, history is the witness that Islam enlightened the world with knowledge when there was darkness of ignorance. Prophet Muhammad SAW had established an educational friendly environment in Makkah and Madina both on individual and collective basis just after the revelation started. Somewhere it was declared that acquiring knowledge was compulsory upon every Muslim man and woman, elsewhere learned people were mentioned to be superior to the worshippers. On one hand, the importance of education was made public from pulpit of the Prophet Muhammad SAW in Masjid Nabawi, while, on the other side, the importance of the acquisition of knowledge was expounded from the battlefield. In the nutshell, whether it was the pulpit or the market public meetings or private gatherings, education and its importance was inculcated forcefully.
Verily, the educational system of the Prophetic era was not like today as those were the different and tough days whether it was the shape of the educational institutions or the resources. They had to go through numerous hardships towards inculcation and the spread of education and knowledge. Nevertheless, Prophet Muhammad SAW and his companions put in the best of their efforts to get and impart education. They left no stone unturned to accomplish their target. The basic syllabus was Quran and Hadith which the Prophet SAW not only himself conveyed to all and sundry but his companions also did their best to carry the message to each and every faction of the society and practically showed the people how to act upon the teachings and injunctions of Islam. Thus the education provided by the Prophet Muhammad SAW was not only theoretical but practical as well.۔
This article throws light on the importance and operational functions of the school established by Prophet Muhammad (SAW) in the light of the selected Hadiths. This study shall guide us how improve educational, organizational and moral aspects of the educational institutions of Pakistan.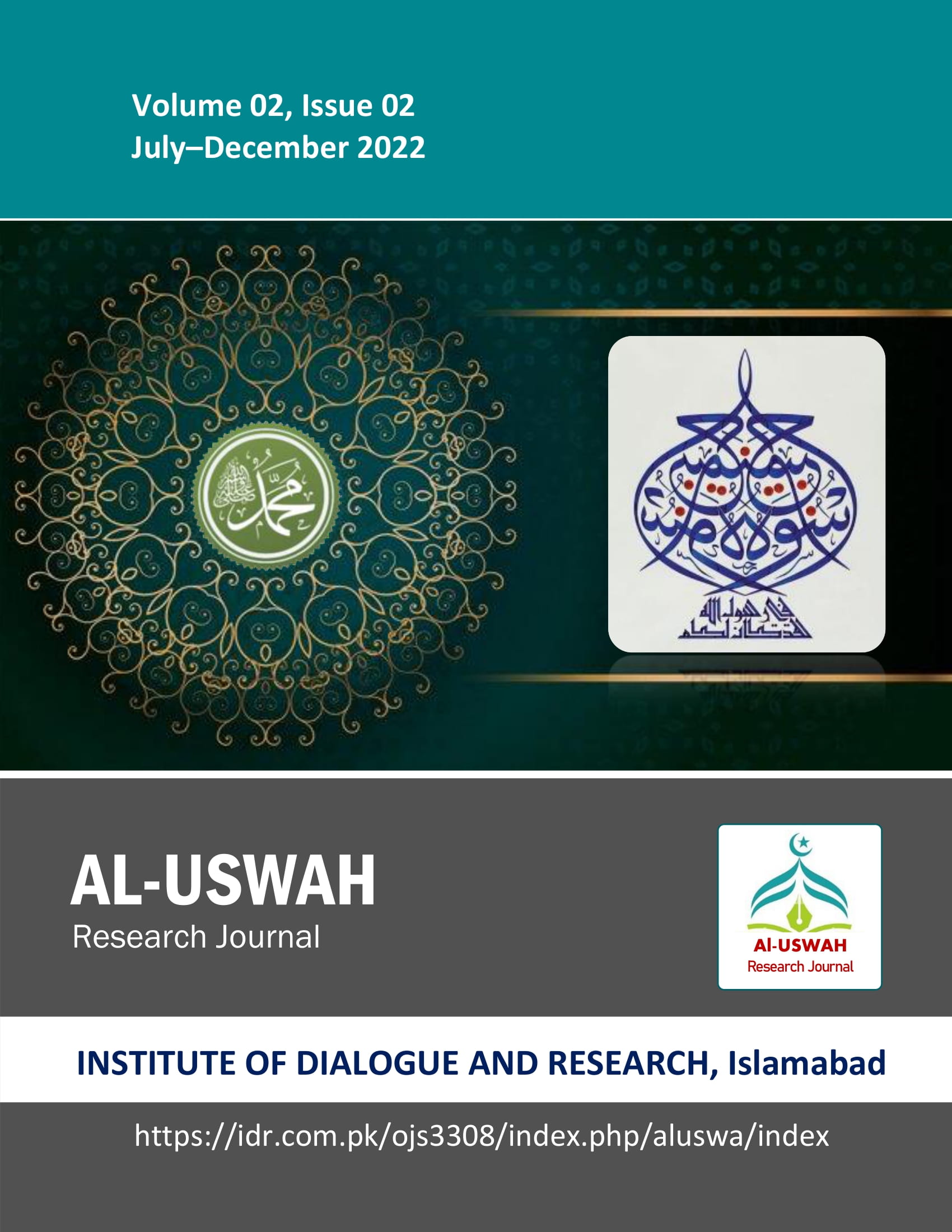 Downloads
How to Cite
Dr. Nisar Akhtar, Dr Noor Wali Shah, and Dr. Saeed Ahmad. 2022. "مکتب نبوی ﷺ کی ہیئت اور آداب منتخب احادیث مبارکہ کی روشنی میں: The Nature and the Importance of the School of the Holy Prophet Muhammad (SAW) in the Light of Selected Hadiths". AL-USWAH Research Journal 2 (2). https://idr.com.pk/ojs3308/index.php/aluswa/article/view/28.