قاعدہ فقہیہ"اليقين لايزول بالشك"کی تحقیق وتطبیق کا تجزیاتی مطالعہ
An analytical Study of the Jurisprudential Rule "Alyaqinu La Yazulu Bi Al-Shakk"
Keywords:
Jurisprudential Rules, Alyaqinu La Yazulu Bi Al-Shakk, analytical Study of the Jurisprudential Rule
Abstract
All praises are due to Allah Almighty who revealed theHoly Quran for our guidance and blessings and peace be upon Muhammad the Messenger of Allah, peace and blessings are upon him, who has revealed the commands of Allah to us. Therefore; gaining proficiency in the sciences of Shariat is a special blessing of Allah Ta'ala. And through this, the servant can fulfill the true worship and devotion of his Lord and the purpose of creation. This refreshes faith, fills the heart with divine fear. May Allah Almighty say that: إِنَّمَا يَخْشَى اللَّهَ مِنْ عِبَادِهِ الْعُلَمَاءُ) Translation: Indeed, only His learned servants fear AllahTa'ala.
In the same way, Islamic scholars of all ages have worked hard to make the orders of Islam public. Someone collected the sayings of the Prophet (ﷺ) in one place, and someonewrote a commentary on them. Someone compiled the principles and the rules the art of Hadith. So, in the light of these principles and rules, someone distinguished between the right and wrong and separated themilk from the milk and the water from the water. So that people can continue on straight path by following only correct hadiths. In the same way, a group of scholars studied the Holy Book and Sunnah and made a detailed edit of the fiqh for the purpose of making worship, morals and character Islamic and the method common to the Ummah of Islam, So that by adapting oneself to the mold of the law laid down by the Lord, He can illuminate every aspect of his life and make himself happy in the world and the hereafter. In order to memorize these innumerable jurisprudential orders, he also compiled their rules, which we know as the rules of jurisprudence. Therefore, in this article, the research study of the research and implementation of the jurisprudence rule "AL-Yaqin-La-Yazul-Bi-Al-Shaki"has been mentioned.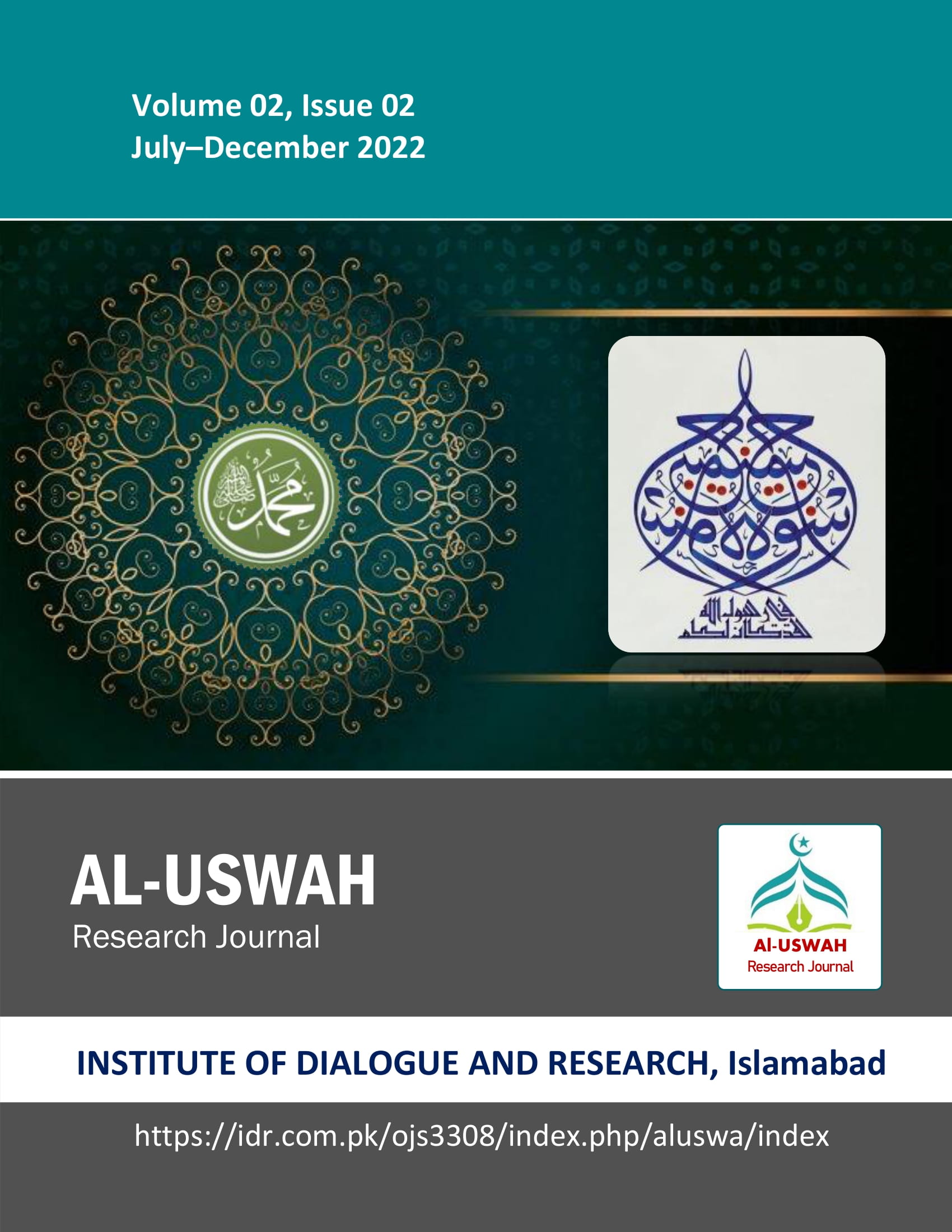 Downloads
How to Cite
Shah Parviz, Dr. Zar Gul, and Dr. Syed Hidayat Ullah Jan. 2022. "قاعدہ فقہیہ"اليقين لايزول بالشك"کی تحقیق وتطبیق کا تجزیاتی مطالعہ: An Analytical Study of the Jurisprudential Rule 'Alyaqinu La Yazulu Bi Al-Shakk'". AL-USWAH Research Journal 2 (2). https://idr.com.pk/ojs3308/index.php/aluswa/article/view/30.